Detailed route description
The nature trail consists of 5 routes that lead through an area with extraordinary cultural and natural values. The total length of all routes is 12 km and contains 15 information boards. Individual stops accentuate the valuable natural and cultural sights of the surroundings and offer visitors interesting information about living and inanimate nature as well as about the harmonious coexistence of people and wildlife in this harsh but beautiful region.
Vlkolínec is a settlement located in the foothills. It is a conservation area of ​​folk architecture and remarkably well-preserved residential complex, consisting of log buildings typical for Central Europe. Vlkolínec has been included in the UNESCO World Heritage List since 1993. Nature trails built in its surroundings complement the whole area under the peak of Sidorovo.
Accessibility and parking
Parking is generally available, regardless of the place where you join the nature trails (Ružomberok, Biely Potok, Vlkolínec). You can also park directly in Vlkolínec, but the car park is paid.
Accommodation and food facilities
You can get some refreshments in the garden of the Folk Art Gallery in Vlkolínec where there is also a grocery open in the summer season. Food facilities are available in Ružomberok as well.
You can have a stay either in several wooden lodges and cottages in Vlkolínec or in the vicinity of Biely Potok at the beginning of the trail.
Route:
Route nr.1 | Ružomberok Biely potok – Trlenská dolina – Vlkolínec (2,8km)
Route nr.2 | Vlkolínec – Krkavá skala – Ružomberok (4,5km)
Route nr.3 | Vlkolínec – Vrchlúky – Sidorovo (1,5km)
Route nr.4 | Vlkolínec – Laz – Močidlá – Trlenská dolina (2,4km)
Route nr.5 | Vlčia skala – Trlenská dolina (0,8km)
---
Route Nr.2 | Vlkolínec – Krkavá skala – Ružomberok (4,5km)
Route Nr.3 | Vlkolínec – Vrchlúky – Sidorovo (1,5km)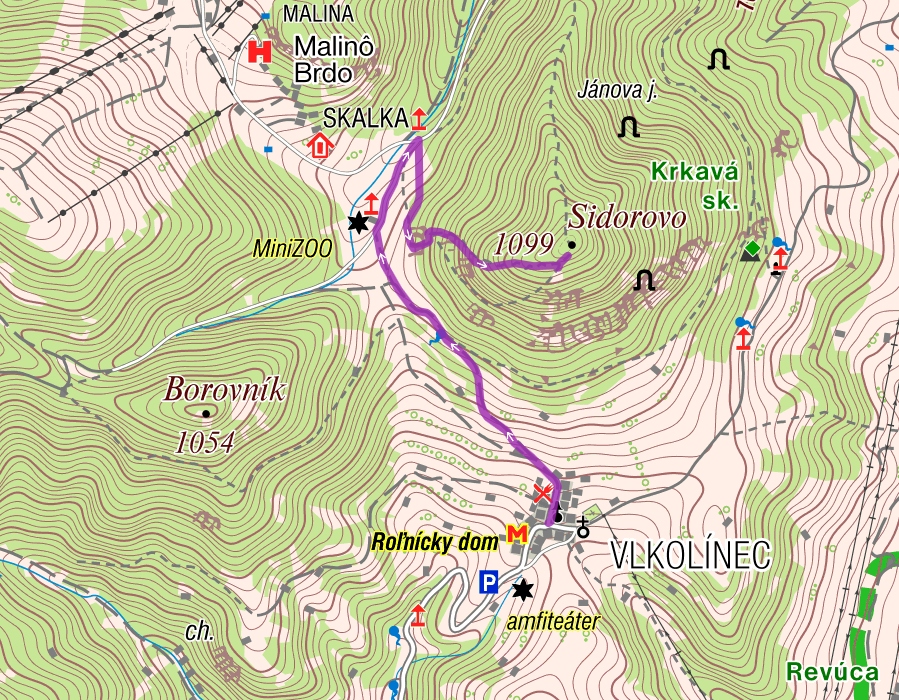 Route Nr.4 | Vlkolínec – Laz – Močidlá – Trlenská dolina (2,4km)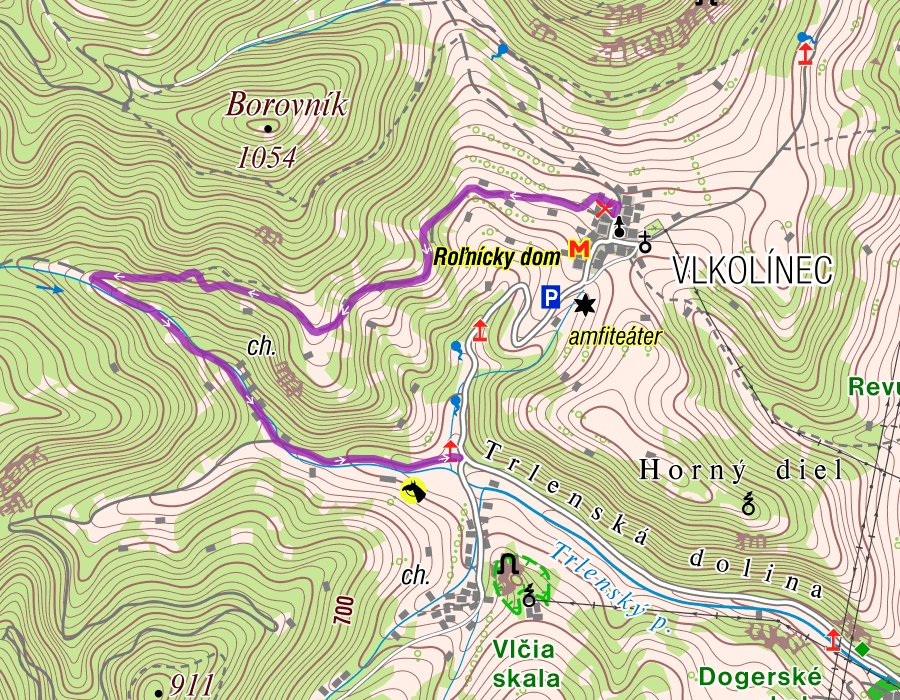 Route Nr.5 | Vlčia skala – Trlenská dolina (0,8km)