The TOP 10 places to eat well in Liptov!
Would you like to taste some traditional cuisine when in Liptov? Here is the list of the best restaurants, kolibas (traditional Slovak-style restaurants) and salašes (sheep dairy farms), where not only can you taste traditional bryndzové halušky (small potato dumplings with sheep cheese and bacon), but also EU-protected Liptovské droby, a unique kind of a sausage made using traditional methods.
Salaš Pastierska, Bobrovec
Salaš Pastierska is an example of sheep farming, shepherding and sheep breeding, which all have a long tradition in Liptov.
Salaš is a certified producer of dairy products. It was awarded a Product of Liptov quality award.
The season starts in April and ends in October. The farm sells cheese and žinčica (boiled sheep whey) from May 1 and is open daily from 12:00 to 18:00.
Koliba Richtárka, Ružomberok
The restaurant offers traditional Slovak cuisine with dishes prepared according to traditional recipes of the region.
Koliba Richtárka restaurant is the biggest of the log cabins in the U dobrého pastiera resort located in the Čutkovská dolina valley. It features a spacious and stylish restaurant, a unique kids' corner with folk toys, a pub furnished in a traditional old-pub style which can sit 45 people, a spacious outdoor terrace and a banquet room.
Koliba Strachanovka, Liptovský Ján
This folk-style restaurant with pleasant staff dressed in folk costumes offers traditional Slovak cuisine as well as specialities of the Liptov region and healthy meals. Halušky made by Maťko a Kubko (main characters of a popular Slovak cartoon about two shepherds) or Squirrel's pancakes are sure to satisfy every child's taste buds.
The largest traditional koliba in Liptov, located at the beginning of the Jánska dolina valley in Liptovský Ján. Embark on a fantastic culinary adventure together with your family and friends and enjoy the peace and quiet of the Low Tatras.
Salaš Žiar is a traditional restaurant in the heart of the Western Tatras.
Come and enjoy traditional Slovak folk dishes inspired by the life of shepherds and taste traditional sheep's milk products. Once seated, treat yourself to a shot of something strong, preferably "hriatô so škvarkami" (a drink that combines plum brandy or rum, caramel and bacon fat) and enjoy one of our chef´s specialities. For those with a sweet tooth, we have a selection of tempting desserts.
Koliba Liptov, Liptovská Osada
Enjoy the best of the Slovak fine art.
But the thing we are sure you will enjoy the most is our traditional Slovak specialities such as mutton goulash, venison steak with celery purée, veal cheeks with mashed potatoes, roasted wild boar with red cabbage, dumplings with lamb, šúľance s makom (poppy seed potato dumplings) and dukátové buchtičky (sweet yeast pastry with vanilla cream).
Koliba Gréta, Liptovská Sielnica
Traditional Liptov cuisine inspired by culinary traditions of grandmothers and served with a modern twist.
The restaurant works exclusively with Slovak suppliers and pride itself on the freshness and quality of the ingredients.
The team working under Anton Považský changes and updates their seasonal menu to match the fresh seasonal ingredients available at the time.
Liptovský dvor, Liptovský Ján
Experience the taste of Liptov. The outstanding and awarded hotel gastronomy places an emphasis on freshness, seasonality, quality ingredients and Slovak tradition.
Talented chef Peter Bracho and his team makes sure each dish looks like a piece of art on a plate.
Breathe fresh air in the nature of the Tatras and enjoy the spectacular views.
The Koliba Holica restaurant is located on the border of Orava and Liptov, near the village of Huty. The village lies in an attractive tourist area of the Roháče mountain range and is surrounded by the Western Tatras – Roháče and the Chočské vrchy mountain range, which gives this place a unique atmosphere.
Liptovská izba, Liptovský Mikuláš
Are you keen to try traditional dishes?
The Liptovská izba, Taverna restaurant invites you to try their bryndzové halušky (small potato dumplings with sheep cheese and bacon), furmanské halušky (small potato dumplings with sheep cheese, bacon and sausage) and cheese halušky as well as bryndzové pirohy (potato dough bags filled with a stuffing made from bryndza sheep cheese), hand-crafted liptovské droby (potato dough sausages), roasted ribs with strapačky (potato dumplings with stewed sauerkraut) or home-made zabíjačka (specialities traditionally prepared during a pig-killing). Those with a sweet tooth will love our hand-crafted slivkové gule (dumplings filled with plums and seasoned with poppyseed or minced walnuts) and šúľance s makom (poppy seed potato dumplings).
Restaurant Penzion Drak, Demänová
The restaurant specialized in preparing dishes using "sous-vide" cooking technique. What´s more, the ingredients they use for making the food are mainly of Slovak origin.
If you wish to spend your evening in a pleasant atmosphere of a family-run restaurant and enjoy good food with a great selection of dishes and Slovak and foreign wines, the restaurant of the Penzión Drak guest house is a place to go to.
Ďalšie tipy pre vás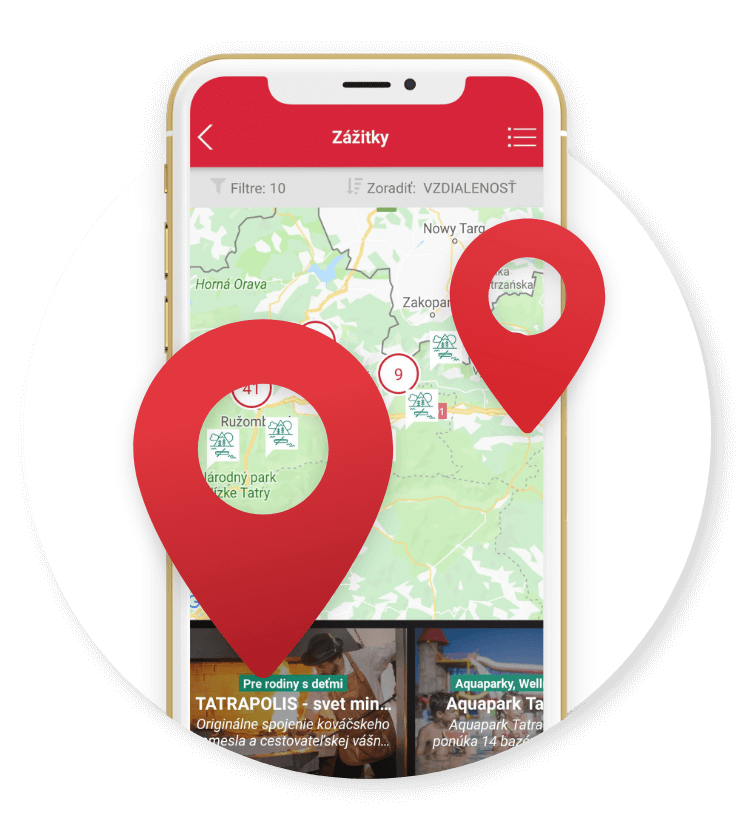 All in one app
Download the Liptov – Low Tatras application and get a card for your smartphone. Thanks to our application, you can browse attractions and filter according to your interests, view opening hours, the nearest public transport stop and create your own holiday plan. All information, including the map, is fully available offline.
---