protected geographical indication
In 2021, Liptovské droby were designated a Protected Geographical Indication (PGI) by the EU.
Liptovské droby are a traditional kind of sausages with potato filling made in the area of Liptov using traditional methods. They are made from spiced potato filling mixed with cracklings, onion and garlic, stuffed into cows' or pigs' intestines. You can order them in good restaurants or buy them at selected stores and prepare them easily and conveniently at home whenever you feel like it.
Ingredients: potatoes, pork bacon, lard, onion, marjoram, black pepper, salt, garlic, cows' or pigs' intestines, semolina flower. Available also in the gluten free version
Where to buy:
In the COOP Jednota retail chain stores (the districts of Liptovský Mikuláš, Ružomberok, Poprad, Martin, Turčianske Teplice)
in the CBA Verex retail chain stores (the district o Liptovský Mikuláš)
in the U Ňaňa bakery and a butchery
in the YEME stores in Bratislava
in selected stores and butcher´s shops in Liptovský Mikuláš, Ružomberok and Poprad.
You can also find them in selected restaurants: Bašta Ondrej, Bernard Pub Maladinovo, Kozí vŕšok, Liptovská Izba, Reštaurácia MAYTEX, Wellness Hotel Chopok.
If you wish, you can pick up your order directly at the production premise, located at 79 Beňadiková, 032 04 Liptovský Ondrej.
About the Tkáč family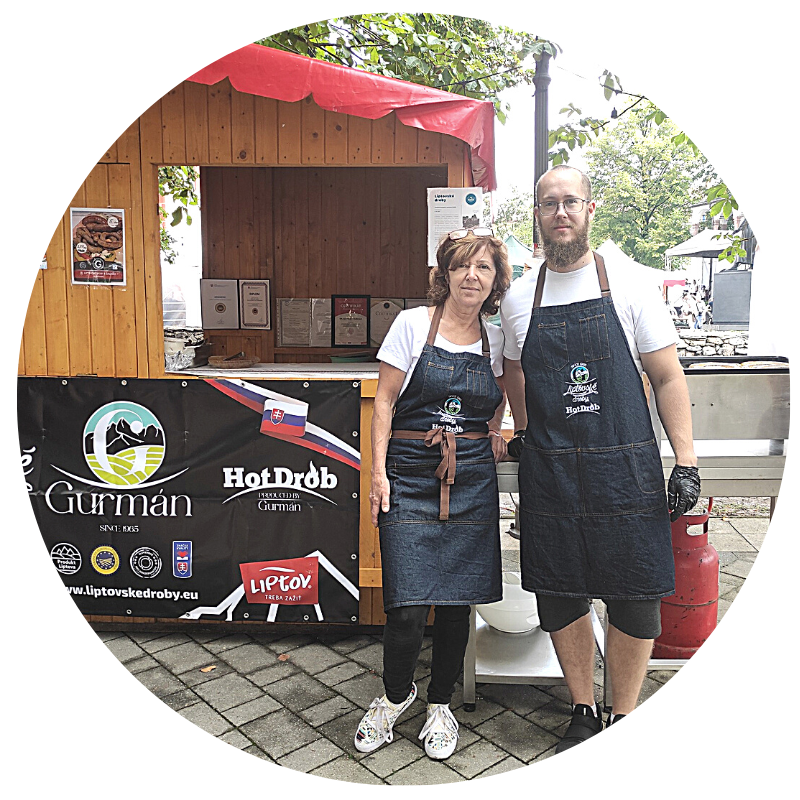 A family-run company Štefan Tkáč GURMÁN is a regional producer of a traditional delicacy of the Liptov region called Liptovské droby PGI and Liptovské šialence. The history of the company dates back to 1965. Carefully selected ingredients coming from Liptov and Slovakia guarantee the best possible quality. The fact that the company is a holder of The Quality Mark SK and has received a Protected Geographical Indication status speaks for itself.
Contact
Other product in this category