The stamp passport for the tourist stamps collecting is intended for everyone who wants to explore the town Ružomberok and its surroundings. Visit interesting places, complete quests and get rewarded. All activities are designed for all age groups, so do not hesitate and go collecting.
The most valuable thing that belongs to the town Ružomberok is the mountain settlement called Vlkolínec. The original architecture of this place, fruit gardens, meadows, log houses covered with wooden shingles are included on the UNESCO World Cultural and Natural Heritage List.
Take an advantage of the audio guide that will guide you through the village of Vlkolínec. You will find interesting information in the guide that you can comfortably read or listen to. The sightseeing route has seventeen stops and they deal with the topics related to Vlkolínec. Listen to the audio guide.
Cyklokorytnička is one of the most beautiful cycling routes in the Ružomberok town surrounding. It runs along the former narrow-gauge railway from Ružomberok town to the village named Korytnica. Along the way, you will surely be pleased with many pleasant stops and remarkable places. The route starts in the town Ružomberok in Šoltýsova Street and ends in the village Korytnica.
Information centre is located in the heart of the city and it will perfectly "guide" you through the whole town Ružomberok and its surroundings not only thanks to its promotional materials, souvenirs, but mainly rich experience and knowledge,
You can meet the sacral theme in Ružomberok town in almost every part of it. There are several churches in the city centre, whether Catholic, Evangelic churches or Jewish synagogue.
The whole surroundings of Ružomberok town are covered with chapels, crosses and other pilgrimage sites, which are worth choosing because they often offer not only aesthetic and sacral value, but also the places where they are located are interesting for their location, surroundings, views of them.
You will find many other monuments such as landlord houses, churches, memorials, railway station buildings or the Liptov Museum in Ružomberok town. The city parts also offer historical attractions, including the birthplace of Andrej Hlinka, the ruins of Likava and Liptov castles and many others.
Thanks to its location, the town Ružomberok has exceptional features. It is surrounded by the mountain ranges of the Great Fatra, the Low Tatras and the Chočské vrchy mountains, which are within easy reach directly from the city centre. Waterfalls, rivers, springs, swamps, peat bogs, natural creations, rocky cliffs, fauna, flora, caves, views can all be found right in the town or not far from it.
Find out how Ružomberok town tastes like.
You can taste traditional cuisine of the Liptov region, international specialties, but also great local beer and fresh roasted coffee.
In the bean of good coffee, taste great coffee from the workshop of family coffee roasting company.
Honest food from local suppliers, herbal teas, gingerbread, Liptov potatoe sausages called "droby" and bee honey can be found in the pantry Hýrošova špajza.
You can order traditional bryndzové halušky – sheep cheese gnocchi and pirohy – sheep cheese pies in the hut Richtárka.
More tips for you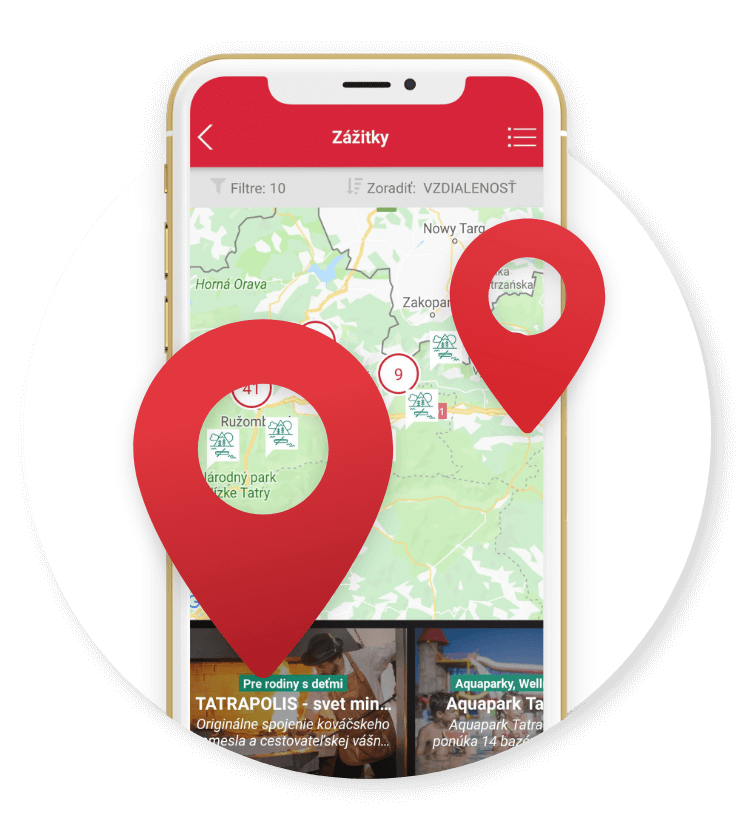 Všetko v jednej appke
Stiahni si aplikáciu Liptov – Nízke tatry a získaj kartu do svojho smartfónu. Vďaka našej aplikácii môžeš prehliadať atrakcie a filtrovať podľa svojich záujmov, pozrieť si otváracie hodiny, najbližšiu zastávku verejnej dopravy a vytvoriť si vlastný plán dovolenky. Všetky informácie vrátane mapy sú plne dostupné offline.
---