Welcome to Liptov, the region with an extensive network of more than 850 km of marked bike trails and No.1 in the development of electric cycling in Slovakia. We are constantly upgrading our infrastructure and doing maximum to ensure the highest quality and comfort during your active stay. That's why we are expanding our own network of public charging stations for electric bicycles, where you can charge them for free. If you do not have your own e-bike, you can rent it at a discount in one of our partner rental shops. Enjoy wonderful views of the Liptov basin from the saddle of a bicycle. We are looking forward to your visit.
A region with the most modern and extensive e-bike infrastructure in Slovakia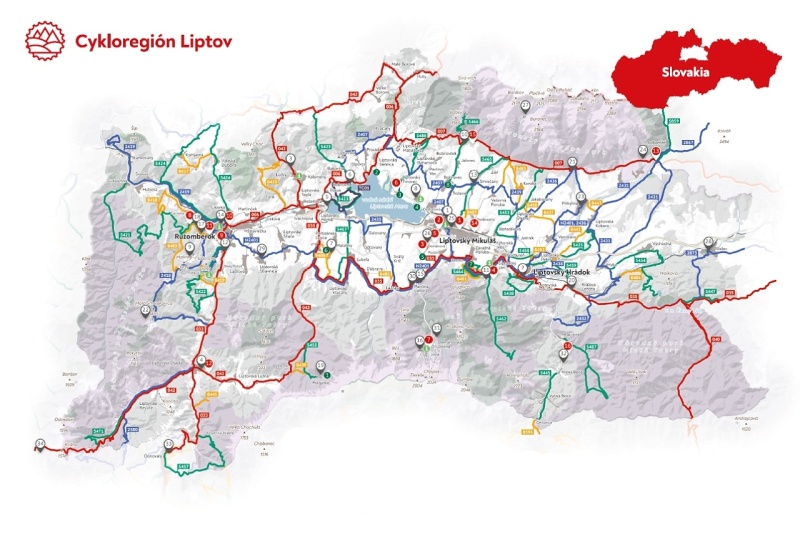 More than 850 km of marked cycling routes
Modern charging stations throughout the region
Wide range of e-bike rentals across the region
Certified accommodation facilities "Cyclists, welcome!"
Annual expansion of charging points
In recent years, we have been working on improving the quality of our large network of signed bike trails and building an e-bike region. During 2020-2023, we built 19 new e-bike charging stations that riders can use to charge their e-bikes. Besides the most common e-bike chargers (Yamaha, Shimano, Bosch, Bafang and Specialized), there also is an air compressor for inflating the wheels and a toolpoint with basic service tools a cyclist can use for bike repairs. The e-bike charging stands are located across the whole region, mostly in the vicinity of dining establishments where cyclists can have a rest, refresh themselves and regain their energy.

The ePOWERpoint charging station contains:
1x Shimano charging connector
1x Bosch charging connector
1x Yamaha charging connector
1x Yamaha new gen. charging connector (selected stations)
1x Bafang/Panasonic charging connector
1x Brose/Specialized charging connector (selected stations)
2x socket for your own charger
bicycle stand for locking your bike
air compressor
basic service tools
Where to find an e-bike charger
Where to rent an e-bike
If you do not have your own e-bike, you can rent it at a discount in one of our partner rental shops: