With us you have a discount with Liptov Region Card!
20% DISCOUNT o a guided city tour for adult.
Current prices and more information about guide service found at www.mikulas.travel.
culture and historical monuments
natural attractions, hiking
holiday programs in the town and surroundings
sports and relaxation
culture events and sports activities
accommodation and catering establishments
institutions, companies and firms
transport connection
WE ARRANGE:
SALE OF TICKETS for culture and sports events TICKETPORTAL & TICKET-ART & PREDPREDAJ
CURRENCY EXCHANGE – good rates, no fees
GUIDE SERVICES – RESERVATION OF TOWN TOUR
MOUNTAIN RESCUE INSURANCE
SALE OF TICKETS on the route Košice – Prague, railway company LEO Express
SALE OF BUS TICKET on the route Košice – Krakow – Katowice Airport
(with a bus stops in Liptovský Mikuláš, aquapark Tatralandia and Bešeňová), bus company TIGER EXPRESS
sale of state fishing licence
advertisement services, fax & copy services
scanning of documents and printing
sale of tourist maps and atlases, maps for cyclotourism, ski maps, panorama maps, maps of attractions, road maps, road-atlases, guide books, books, souvenirs, postcards…
internet access
presentation on the web sites: www.mikulas.sk www.mikulas.travel
promotional materials
participation in domestic and international exhibitions
of tourism, conferences and workshops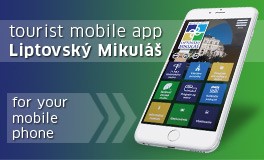 The free tourist mobile app of the town Liptovský Mikuláš offers an interactive overview of attractions, products and services in the town.
a
a
a