10% DISCOUNT on a guided city tour for adult.
Current prices and more information about guide service found at www.visitliptovskymikulas.sk.
It will introduce you the biggest tourist attractions of the town, many attractions from the history and present and the life of important personalities. You will learn why the slovak national hero Juraj Jánošík was hung on the gallows in Liptovský Mikuláš, which church played a key role in its history, what are the best Liptov specialties and souvenirs, where in the town you can find one of the most beautiful viewpoints of Liptov and much more. The tour is also combined with taking pictures of impressive landmarks and details of the historic centre.
INFORMATION CENTRE PROVIDES FREE INFORMATION SERVICE ABOUT LIPTOV REGION.
INFORMATION CENTRE ARRANGES:
sale of tourist assortment (maps, books, souvenirs, postcards,…)
sale of Liptov products (list of products)
moutain rescue insurance
guide services
sale of travel tickets LeoExpress, RegioJet, FlixBus
sale of tickets for culture and sports events TICKETPORTAL, PREDPREDAJ, CINEMAWARE and TICKETLIVE
exchange office
scanning and printing documents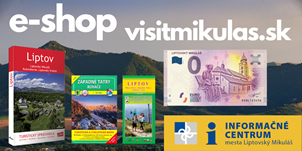 Visit the e-shop of the INFORMATION CENTER and get maps, tourist guides, book publications and souvenirs from Liptovský Mikuláš and the Liptov region.