TATRY MOTION Jasná Nízke Tatry- rental, ski school
TATRY MOTION® in Jasná is a brand synonymous with trendy shops, professional rentals, testing centres, servicing, high-quality ski & snowboard & freeride school, and other activities. The shops are located in Biela Púť, Záchradky and in Hotel Grand.
Mountain carts are fun and especially easy to control. They are suitable for everyone, from 12 years to retirees. In Jasná you can go downhill on a cart with an elevation of up to 662 meters and at the same time enjoy panoramic views on Low Tatras. Simply fun for everyone.
Ski school
The ski school covers individual and group lessons as well as freeride lessons and the MAXILAND ski kindergarten.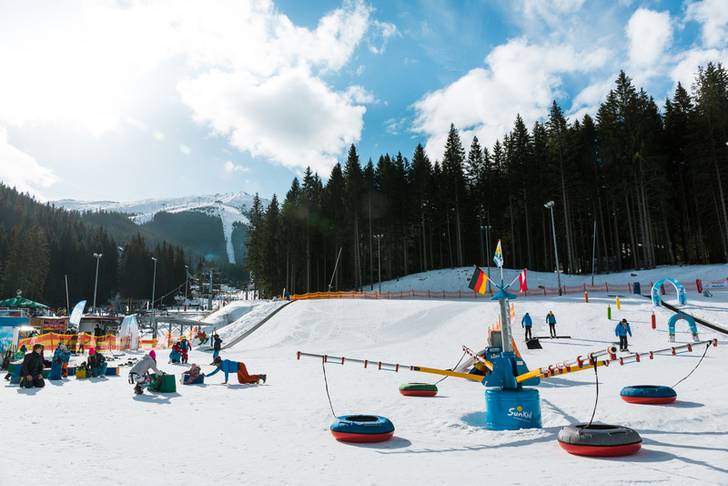 The Tatry Motion Nízke Tatry ski school provides high-quality ski and snowboard tuition for skiers and snowboarders from beginners to experts of all age groups – from children under three years of age up to seniors. Because age is only a relative term.
Instructors in the Tatry Motion ski school are not only teachers for clients but also guides, navigating them through the resort and companions during their stay on the slopes of the Low Tatras. They bring them the basics of skiing and snowboarding technique so that the client can feel safe on the slope and enjoy skiing or snowboarding. At the same time, our instructors try to acquaint each client with the principles of behaviour on the slopes.
Rental
TATRY MOTION offers skis of all categories – economy, performance and top. You can rent SNB equipment and full alpine ski tour equipment. You can also rent DPS testing skis, the most advanced ski brands on the market.
Quality freeride bags can be hired in the freeride testing centre, where you´ll get a freeride manual which will guide you while recognizing the Low Tatras couloirs. Have great fun in the mountains.
At Biela Púť you can rent fun tools such as sleighs, snow scoots, snow bikes and Skki Trikke. The rental is complemented by daily professional turn-key servicing of equipment. As any rental in Jasná, it has also a depot for your skis and ski boots, and thus you can start your next day skiing on a slope in dry and disinfected ski boots.