Beneficial for human skin and ecologically conscious.
Krmešáky are the first natural herbal soaps in Liptov that are produced using traditional artisanal methods.
Both soaps and shampoos are made of natural ingredients only, using the cold process method and wooden moulds.Hand cut bars dry naturally in wooden racks before being hand wrapped and labelled, meaning every item is a true original.
All herbs come from their own production, they are hand-picked and carefully dried to preserve their natural properties, colour and aroma.
Thanks to to their exclusively natural composition, the Krmešáky soaps gently clean the skin without burdening it with unnecessary chemicals. In addition, their regular and long-term use support physiological processes of the skin. Only certified natural essences and oils are used in their production.
Why choose the Krmešáky soaps?
They are 100% natural, having a unique composition and design. Complying with the environmental values of the company, all the Krmešáky soap bars come in eco-friendly and fully recyclable packaging that does not hurt the environment. Krmešáky – healthy for skin and nature.
Varieties trimmed to fit a soap dish / gift wrapping also available
Ingredients: For the ingredients for each variety, please visit krmesaky.sk
read more
hide
Where to buy:
About Krmešáky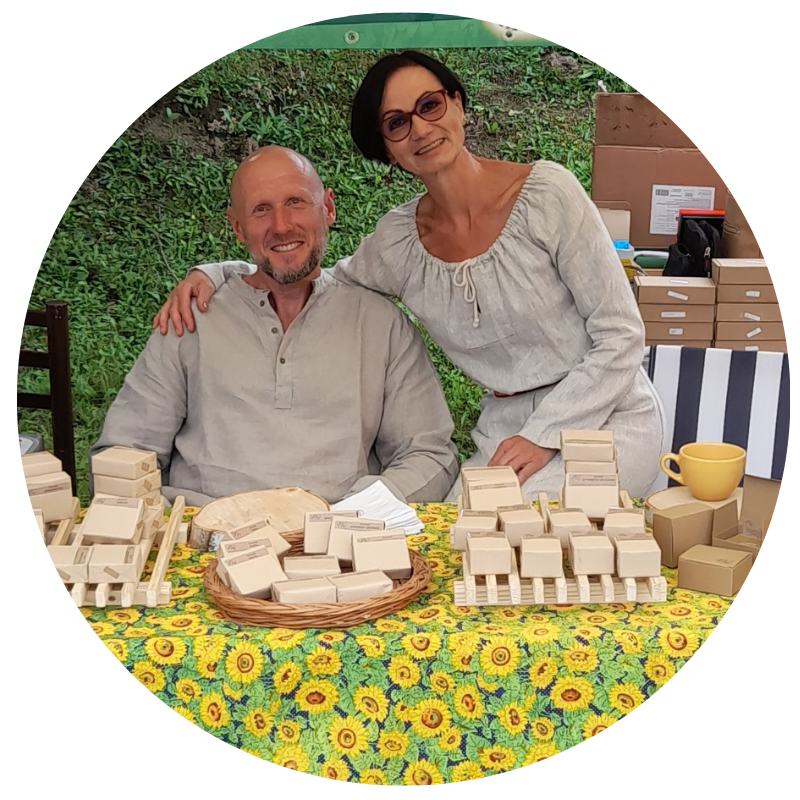 Krmeš is a picturesque part of the equally picturesque Liptov village of Vlachy located in the vicinity of the Liptovská Mara dam. This is where Slávka and Juro live, where they grow herbs and where they produce Krmešáky, 100% natural herbal soaps friendly to your skin and nature.
WE ARE A FAMILY-RUN COMPANY
Slávka Strenková: "The decision to live our lives in harmony with nature and to produce natural herbal soaps came about as the result of gradually recognizing the need for a life change. It came about gradually and naturally over the course of time. It was never the question of necessity or duty. It was a choice. It was not premeditated or planned, nor was it a project that needed to be finished by a certain deadline. Life itself has brought Krmešáky to our lives – to Krmeš."