The only lifestyle magazine in the Tatra Mountains…
The TATRA MAGAZINE website shows visitors, tourists and holidaymakers that we have wonderful places in Slovakia, where their high level of experience, relaxation, entertainment and enjoyment of beauty and tastes can be enjoyed by all the senses.
Tatry Magazine is created thanks to the cooperation of individual Regional Tourism Organizations in the Tatras. Regional Tourism Organization Liptov Region, Regional Tourism Organization Region High Tatras, Regional Tourism Organization Low Tatras South, Progrup Agency and the largest operator of tourism services in the High Tatras, Liptov and the southern side of Chopok Tatry mountain resorts.

It is published twice a year in the summer and winter season, which belong to the main seasons in the regions. The aim of the MAGAZINE TATRA is to support the image of the Tatras, to present them as a place where it is worth spending time, where it is worth vacationing. Its ambition is not only to curl, but also to educate and offer the reader on the wider area the best that is hidden not only under the Tatras' shields but also within them. Magazine pages show visitors that we have wonderful places in Slovakia, that we can provide experience, relax, fun and enjoyment of beauty and taste.
Well-known personalities such as Jean-Claude Van Damme, Janica Kostelic, Mikaela Shiffrin, Dominik Hasek, Daniela Hantuchova, Július Šupler, Miroslav Lajčák and a native of the Tatras and President of the Slovak Republic Mr. Andrej Kiska have already appeared on the magazine's website.
A holidaymaker, tourist or visitor will find a magazine in places where you can browse and read it – hotel rooms, halls, cafes, lobby bars, wellness, aqapara…
The magazine is available for FREE in tourism facilities. MAGAZINE TATRAS – this is 120 pages of eye-catching lifestyle reading with attractive graphics in high-quality design.
TATRY MAGAZINE is the winner of the INNOVATION IN TRAVEL HANDLE from the Ministry of Transport and Construction of the Slovak Republic, has repeatedly won the competition for the best BUSINESS MEDIA OF THE YEAR in its category and has also won the whole media contest and the professional public awarded it the GRAND PRIX prize.
Contacts:
Phone contact: +421 918 580 205
E-mail contact: sarafinova@visitliptov.sk
read more
hide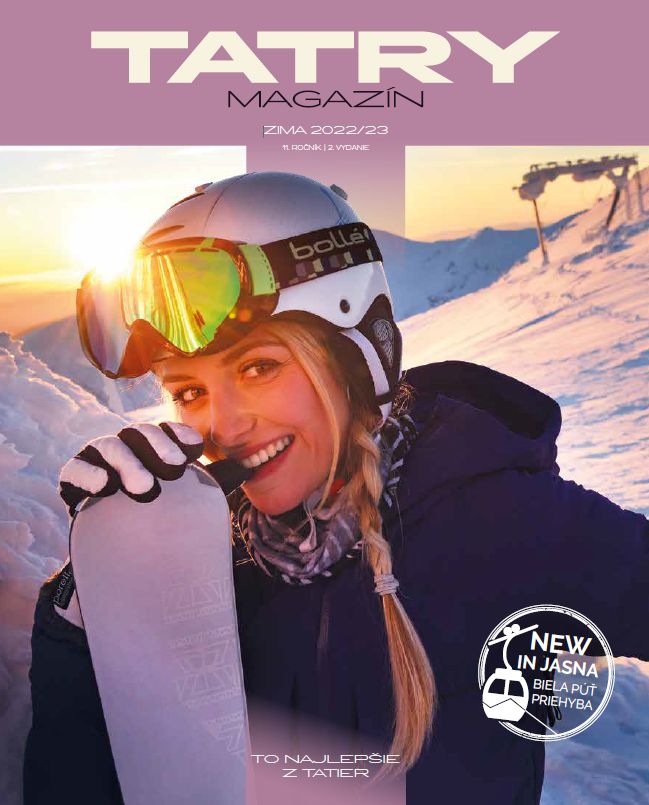 ---